4 Ways to Grow Your Business #1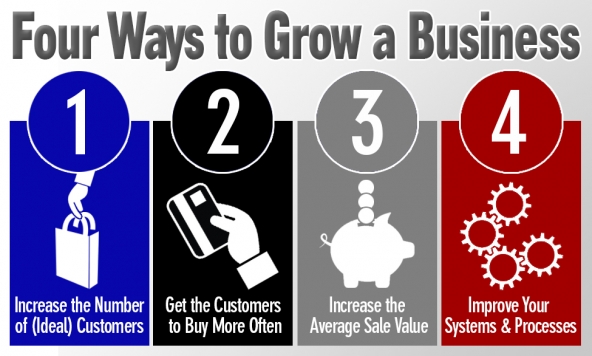 Let's face facts, everyone wants to grow their business. Unfortunately there is no magic bullet and fundamentally there are only four ways to grow a business:

Increase the number of customers (of the type you want)
Increase the number of times customers come back
Increase the average value of each sale you make
Increase the effectiveness of each process in your business.

Theoretically, it's that simple, however, in reality it's hard work and no amount of enthusiasm, passion, hard work or talent will guarantee business growth. Offline marketing strategies like TV, radio, newspapers and direct mail have lost their marketing mojo and you need to shift your focus online. Most importantly, you need to be working ON your business and if you could increase each one of these four factors by just 10% the compound effect would be a staggering 46.4% increase in your revenue.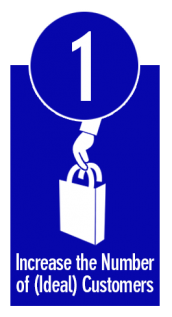 In a series of blogs we are going to examine each one of these factors starting with, how to increase the Number of Customers (of the type you want).

1. Increase the Number of Customers (of the type you want)

Target Marketing - You don't necessarily want to market to everyone so you need to focus your attention on winning your ideal type of customer. This could mean targeting a certain gender, age group, income level or people in a geographic location. The next question is, where do they 'hang out'? It could be online and more specifically it could be on Facebook. The good news is Facebook lets you target groups with ads based on certain criteria so you can really hone in on your ideal clients with customised ads.

Riches in Niches - For some businesses it makes sense to focus on niche markets. You could have expertise in a particular type of service or you may specialise in an industry. Either way, there are riches in riches and you need to become a 'visible expert' which could mean speaking at industry conferences, writing articles in trade magazines and writing a series of blogs on your area of expertise.
Develop a Point of Difference - If you don't have a point of difference in your business you're probably only competing on price which is a recipe for disaster. What makes your business stand out in the crowd? Do you have a unique selling point (USP) that differentiates your business from your competitors? If nothing comes to mind it's time to think of ways you can differentiate your brand and communicate this to your target market. It could be the simplicity of your product, your guarantee or your rewards program.
Research your Market - You need to understand your customer's needs and preferences so you can market to their needs. Know your customer's key frustrations and focus your marketing on the benefits you offer. Avoid just selling the product features and focus on the benefits your customer will get.
Review your Website - Your website is your marketing heart. Most consumers now start their search on the internet so your website needs to be your marketing manager working 24/7. All too often we find websites are just 'electronic billboards' that list the who, what and where of the business. Think about what you want visitors to your website to do and make sure you guide them to take the next step which with calls to action like, call us now, book a free meeting, call for a free quote or get a free product sample. Your website should generate leads which may require other features like social proof and testimonials, videos, a blog, e-books and whitepapers.
SEO - there is no point having a great website if it is invisible to the search engines like Google. If you're business is plumbing where do you appear on a search for 'plumber Richmond'? Search engine optimisation (SEO) is a science but you need to build inbound links to your website, label images on your website with key words, and create unique and relevant content that resonates with your target market. Your website should 'talk' to these prospects and tell them how you can help them solve their problems or fill their needs.
Video is now an essential part of your marketing arsenal. By 2017 the experts predict 69% of all website traffic will be on video. It will bring more traffic to your website, reinforce your knowledge and expertise plus it may also give you a point of difference compared to the competition.
Social Media is the digital 'word of mouth' and if your target market is people under 50 you simply can't afford to dismiss channels like Facebook and Twitter etc.
Build A List - Statistics show that 80% of sales are made after the fifth contact with a potential customer. For that reason you need to keep building your list of prospects one of the most important things your website should do is entice prospects to exchange their name and email address for a piece of your content. It could be an e-book, whitepaper, newsletter, checklist or video but this allows you to build a pipeline of prospects and keep marketing to them. Remember, not everyone who lands on your website is ready to buy so building a list and adding them to future marketing campaigns is a key strategy to winning more customers.
Develop a Sales System - A systemised approach to selling based on an effective sales method is a must-have for increasing your customer database. To encourage your prospects to make a purchase you should automate and systematise the process so your customers get a consistent and positive experience.
Create Sales Forecasts - Projecting future sales is also part of increasing sales. It's much easier to get to your destination if you know where you are going. Establish a goal or target so you can monitor your own performance. It could also mean identifying how many new customers you need to win each week or month. If you don't measure you can't manage.
Finally, think about other ways to promote your business. There are so many options but start by focussing on where your ideal customers gather together. Join networks, update your LinkedIn profile, send out press releases regarding your new products or services, run webinars or seminars and don't forget to encourage referrals. Think about creating reciprocal referral agreements with a non-competitive business who share the same type of target market. Pizza shops and video stores do it well as do hairdressers, nail technicians and beauty therapists.
Your marketing can be the difference between boom and doom in the digital age and our goal is to help you build a better, more profitable and valuable business. Our marketing skills differentiate us from other accounting firms and contact us today if you need help to attract more new customers.